Magnetic Signs
Our magnetic signs are produced on 0.6mm flexible magnetic panel, with a pull of 56g/cm2, which is perfectly safe at motorway speeds.
We over-print on adhesive vinyl which is then applied to the magnetic panel. This produces better print definition, and colour vibrancy, as opposed to printing directly onto the media.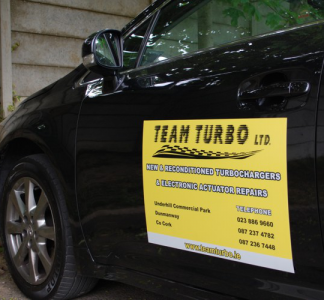 The magnetic sign in the picture is 600mm x 400mm, which costs €60 plus vat.
If you have a specific size requirement, we would be happy to quote.