Non-Slip Floor Graphics
Adhesive floor graphics, with a non-slip coating, are suitable for almost any type of floor. We use a special adhesive to keep them down, but they are easy to remove when required. Each floor sticker has a textured coating for non-slip use. Good for two months under heavy foot traffic, and even longer for light foot traffic.
Typically a 60cm x 60cm laminated, colour graphic starts at €25 plus vat.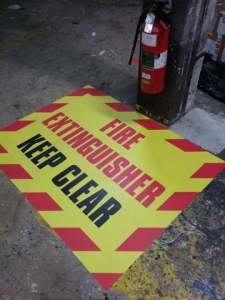 Ask about our non-slip, adhesive floor sticker and decal range. Produced in any design, and any size, and finished with a laminated surface to make your print last and also to prevent slips. That way you receive a quality printed product which is designed for the task at hand. They are easy to apply to any flat floor surface, and equally easy to remove when your need is complete.
Please also ask about our shape options such as square, circular and contour cut options. We aim to make your floor decal as impactful as possible, maximising the impact on your visitors.
Simply drop us an email and we will commence the design process from concept to delivery, ensuring you get the high level of customer satisfaction that you expect.