Vehicle Window Graphics
We produce vehicle window graphics which are clearly visible from the outside, and also provides the driver visibility from within. They provide an ideal opportunity for advertising, branding and decoration. Also, light restriction is kept to a minimum. The tiny holes prevent air bubbles and the metalic layer won't tear easily. Please ask about our free graphic design service.
Easy to apply and trim.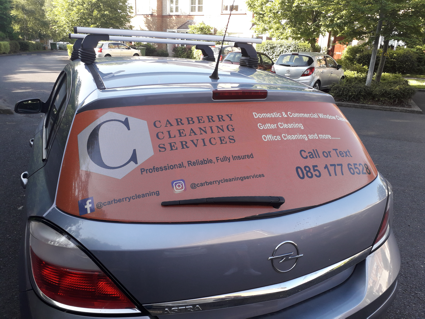 The vehicle window graphic looks complicated to apply, however it couldn't be further from the truth. As the graphic has lots of tiny holes, you won't run into any problems with air bubbles. As it has a metalic layer, you won't easily tear the graphic whilst applying it. We print the graphic slightly larger than the window so you dont need to worry about aligning it perfectly. Once applied, you can simply trim the excess for that perfect finish. Van and car decals are ideal as an advertising or marketing option as you drive in public.
If you want to avail of our free graphic design service, simply get in touch and we will take it from there.