Pavement Signs - Complete with Posters
Our Pavement Signs, complete with posters, are extremely robust and steel-framed, with weighted base, and wheels for easy transport.
FRAME SIZE: 594mm x 841mm (A1) is €195 plus vat, which includes two pvc posters.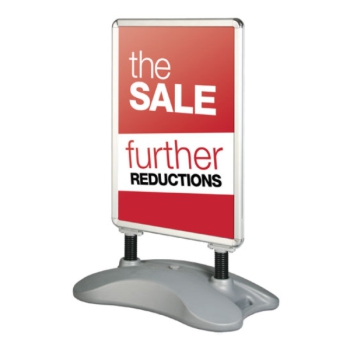 We have only one pavement sign on display here as it is by far our best seller, given how extremely robust this unit is. If you would like to see our full range of retail signage for pavements, please drop us an email, and we will send images and pricing.
Please remember, we will design your posters for any pavement sign so you are ready to go as soon as we deliver to you. Our posters are printed in full colour on durable pvc so they are long lasting. They are included in the price of your sign, and our graphic design service is free.
Please do not hesitate to contact us with any enquiries you might have. We aim to provide you with a seamless customer service experience from design concept to delivery of your finished product.