PVC Board - Light and Durable
Our PVC Foamex board produces a perfectly smoth finish print for professional display purposes. Light, durable and perfectly smooth, they can be cut to any size, making them ideal for professional signage for your shop, office or event.
We will print your board in full colour, with excellent print detail and colour vibrancy.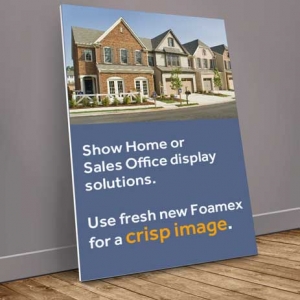 Subject to VAT

Our PVC board is available in many sizes. The 3mm board is still sufficiently rigid, whilst light enough to suspend in your office or store. If you want a more robust board, I would suggest the 5mm for using at displays and exhibitions. When laminated, they will last for multiple uses.
We can even go as thick as 10mm which can be used for long term wall features and other needs.
As the PVC board is perfectly smooth, our sign printing will achieve a very professional print result, whatever your need.